By Dr. Jon Thomas, DC, PSc.D, Board Certified Chiropractic Physician.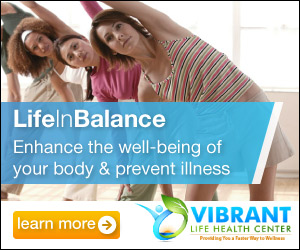 Courtesy of Vibrant Life
and First Coast News
Vibrant Life Health Center and First Coast News are collaborating on a new way to reach out to the community with information on how to achieve wellness and fitness. It's called Life in Balance. Our bodies have been designed to be healthy. However, many of us do things throughout our lives which throw the body out of balance and away from health.
The strategies, programs, and pills that have been around for so many years, have just not provided people with the solutions they need for their health problems. Also, many people spend lots of time in the gym without seeing the results they want. They sometimes end up feeling that going to the gym is a waste of time and money.
If you're sick and tired of being sick and tired, or know someone who is, Life in Balance can help. There is more information available now about health and wellness than there ever has been in the past. We can now get answers to questions like these:
How much water should a person consume per day?

Does that amount vary based on factors like the size and weight of a person, or the weather outside, or a person's lifestyle?

What types of exercise should a person engage?

What are the variables that a person should consider to determine what exercise is best for him or her?

Should a person engage in different types of exercises on alternating days?

What is an effective routine for starting the day? Are eggs good for breakfast? What about shakes and smoothies?

How can I apply the information I have access to so that it will produce the results I'm looking for in terms of wellness, fitness, and weight?
Each person is unique and each person has different needs. For example, a person who dresses up in a mascot suit and then has to move around in the heat will need a very different hydration plan than someone working in an air conditioned office.
Vibrant Life Health Center and First Coast Living are introducing Life in Balance as a means of bringing information about all the key elements of wellness and fitness together. We will be broadcasting segments tailored to the needs of viewers and anyone in the community who wants to live a healthier and more fulfilling life.

Life in Balance webpages

are being hosted in the First Coast Living section of the First Coast News website. We're also looking forward to interacting via social media outlets dedicated to Life in Balance.
At Vibrant Life Health Center, we know that little things lead to big results. For example, eating an ice cream Sunday after every meal for a year will produce a big result – an undesirable expanding waistline. That's one thing most people would prefer not to have. On the other hand, a person who simply takes a brisk walk around the block after every meal instead of indulging in an ice cream Sunday will see positive results like weight reduction, improved cardiovascular health, and more.
Life in Balance is going to be one portal where people living on the First Coast will be able to access all of the information they need in order to make decisions that will have a positive impact on their health and wellness.
Beth lost 110 pounds in a year on NutriMost.
Beth's story is an amazing example of a person bringing her life back into balance. NutriMost was a big part of that.
"I've been through the NutriMost program three times and I am down over 100 pounds since July of 2015. Dr. Thomas is phenomenal and I wouldn't trade him for any other doctor. When he told me I had the body of a ninety-nine-year-old woman and I was only forty-six, I knew it was time to get serious about making changes. When I started the program, I was at 324 pounds and now I'm down to about 200. I've gone from a size 26 pants to a size twelve. I went from a 5X shirt to a large or extra-large shirt. I got my health and my life back. That wouldn't have happened without NutriMost."
Pat lost 54 pounds on NutriMost.
Pat has also had astonishing results with NutriMost.
"The day I got on the scale and saw that I weighed 202 pounds, I knew I needed to make a change. I walked through my living room and saw Dr. Thomas talking about NutriMost on First Coast Living on TV. I had been to Weight Watchers and another program and neither of those had worked for me. I set up a consultation with Dr. Thomas and I felt really comfortable with him. The program made more sense to me than anything I had tried before. It involved eating properly and it had someone helping you along the way. Every morning I texted my weight to Dr. Thomas. That kept me focused on the program. I'm not used to reporting to anybody. I'm used to people reporting to me. I've lost 54 pounds and I feel great. Just after I signed up for NutriMost, my daughter told me she was pregnant with my first grandchild. It's wonderful that instead of being out of breath and not being able to touch my toes, I can pick up my grandson. He is sixteen pounds now and I have no problem picking him up."
In this article, I have discussed Life In Balance, a collaboration between Vibrant Life Health Center and First Coast Living. Life in Balance is a health information portal which will provide viewers with all of the information they need to achieve their wellness and fitness goals. I've also written about Beth and Pat, two women who have achieved truly amazing results with the NutriMost fat loss program.
If you have a comment about this article, please leave it in the comments section below. If you know of someone who might benefit from the information in this blog, please share it with your friends, colleagues, and on social media.
The Google Plus button and other social media sharing buttons are below.
At Vibrant Life, we address all of the key elements to add vibrance and vitality to your life. This includes nutrition, chiropractic care, and fitness. If you need to consult with a chiropractor about your neck, back, or any other health concern, please contact our office to set up an appointment.
Courtesy of Vibrant Life
Dr. Jon Thomas is a Board Certified Chiropractic Physician. His practice, The Vibrant Life Health Center, is located in the Mandarin section of Jacksonville. His interest in health and fitness started early, and his athletic pursuits have included BMX racing, Professional Snow Skiing, Water Skiing, Baseball, Weightlifting, and Martial Arts. After studying and learning from some of the top health experts throughout the world, Dr. Thomas dedicated his life to helping people of all ages to transform their lives. The objective for each patient is to initiate the body's healing and to work progressively toward a body that functions optimally. Dr. Thomas is seen regularly on TV on First Coast Living, where he discusses the transformations of his patients. He also speaks at events throughout the community and writes informative articles to improve the health of residents throughout Jacksonville.